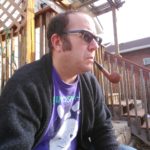 The Horror Writers Association (HWA) is pleased to announce the winner of its 2019 Scholarship From Hell: Thomas Mavroudis, a Colorado-based writer. As the recipient of the scholarship, Thomas will receive travel to HWA's annual conference StokerCon™ (May 9th through May 12th, held this year in Grand Rapids, MI), hotel accommodations, convention membership, and his choice of workshops in the convention's "Horror University".
Applicants to The Scholarship From Hell are required to submit a 250-word essay discussing how they think the scholarship would improve their skills as a writer. "Although our StokerCon™ Committee reviewed dozens of applicants, Thomas's essay had just what we're looking for in our winning writer," said HWA President Lisa Morton. "In 250 beautifully-crafted words, he discussed his commitment to writing, to the horror genre, and to his fellow writers."
Husband, father, and member of the Denver Horror Collective, Thomas C. Mavroudis hosts a horror literary event (nearly) every last Sunday of the month called Frights and Flights at Denver BookBar. He has an MFA from the University of California, Riverside-Palm Desert. His stories have appeared in Turn to Ash, Terror in 16-Bits, Year's Best Body Horror, and forthcoming in Weirdbook, Tales from Gehenna and the anthology Behold the Undead of Dracula: Lurid Tales of Cinematic Gothic Horror.